Our dishes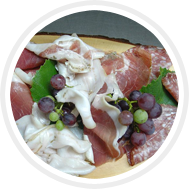 Starts
The starts at "Giusto di Sale" are created carefully with only local products of the highest quality, including cured cold meats, Tuscan cheeses and fresh meat and fish dishes.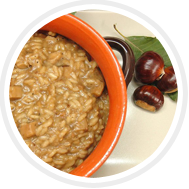 First courses
Tuscany is famous for its historical traditional gastronomic dishes. For this reason, at the "Giusto di Sale", we decided to serve not just dishes that are typical of the area like Tortelli in meat sauce, Risotto with wild mushrooms and Penne with scampi, but also Ribollita which is a thick Tuscan vegetable soup, Bean soup alla Frantoiana, Taglierini pasta with beans and Carabaccia (traditional onion soup). Thus one can savour the flavours of antique recipes which we have not forgotten.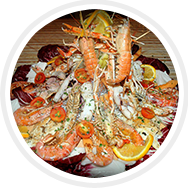 Main courses
Apart from the classical grilled steak dishes, we propose dishes like roast kid, wild boar, venison and a selection of game. Fish dishes include: pan of fisherman's seafood, baked gurnard fish (gallinella), sea bream oven-baked in paper, mixed fried fish Viareggio style and mussels with pepper to name just as a few examples.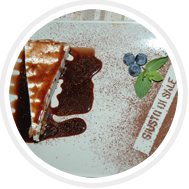 Dessert
Staying with our local tradition why not try at the end of the meal one of our homemade cakes and tarts like apple tart with chocolate, ricotta flan, pear strudel with chocolate and walnuts or our own cheescake with a base of amaretti.